We have worked with the Government of South Sudan to prepare a new Policy for Teacher Education. We have been pleased to support the process with a number of projects, research inquiries and training programmes. The documents on this webpage represent some of the significant documents relevant to the policy development process.
A key feature of the policy development process has been the extensive range of stakeholder involvement. The policy has benefitted  from the voices of students, teachers, school leaders, NGOs, Ministry officials, state and county level education leaders and donor agencies. Four workshops took place between September 2022 and April 2023 in order to capture the voices of stakeholders. In addition to these workshops, a Situation Analysis was conducted between April 2022 and August 2022 where teachers and Teacher Education providers from across the country were interviewed. These interviews were conducted whilst conducting a literature review, resulting in a Policy Brief that provided a solid base upon which the Policy could be developed.
The final version of the Teacher Education Policy is here:    National Teacher Education Policy 2023-2030 South Sudan March 2023
The final version of the Teacher Education Implementing Strategy is here: SS Teacher Education Policy – Implementing Strategy
A key outcome from the policy development process is the co-creation of a Quality Framework for Teacher Education. This framework is designed to be used by all providers of teacher education – both in-service and pre-service. This framework is designed to be both a tool to support the design and evaluation of teacher education programmes. It is printed as the back page of the Policy itself.
Teacher Education Quality Framework South Sudan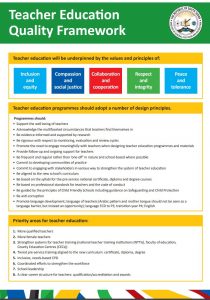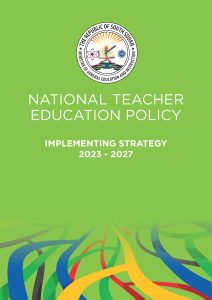 Courses and resources in support of Teacher Education
Professional Standards for Teacher South Sudan
SS New ITT Primary and Pre-Primary Syllabus and Guidance
CPD Implementation Guidance Booklet
Documents to describe the Teacher Education Policy Development Process
National Teacher Education Policy Brief 1st draft February 13th 2023 (2)
Wednesday 8th March Teacher Ed Policy intro session to the Policy Brief
Executive Summary of Thematic Literature Review CPD South Sudan
Report Summary Interviews with NGO Education Leaders Teacher Ed Policy
AA Literature review teacher policy workshop 31_1_23
Valuing Teacher Voice SS Interviews and Analysis December 2022
NATIONAL TEACHER EDUCATION POLICY Presentation DDHY
DRAFT 2a National Teacher Education Policy South Sudan 2023
National Teacher Education Strategy, 2023-2027 Draft v1 (Re-numbered)
THE NATIONAL GENERAL EDUCATION POLICY 2017-2027 Final Draft